Specialty Pages: How To Write Pages That Convert For Your Practice
Now that your therapy website is live, you're ready and raring to set the internet world on fire. You're eager to bring in hordes of eager new clients and add zeroes to your cash flow. But how can you dramatically increase your chances of success on the internet?
Specialty pages are key.
What is a specialty page?

Any page that describes concentrations or procedures specific to you and your practice could be considered a specialty page. Do you use a certain type of therapy? Do you focus on specific conditions? Do you have a section where potential clients can learn about their potential therapist – you?
This kind of content all requires a specialty page on your professional website to maximize your impact on interested eyeballs. Let's look at why specialty pages help you stand out and succeed.
People want an "expert"
Let's look at an example. You have sciatica and are fed up with the incessant pain. You head online to look for a therapist. Many are generic. Chiropractors, physiotherapists, osteopaths, pain specialists… And then you see it! A page focused solely on the treatment of sciatica. There's information about the causes, effective treatment options, stretches and the need for therapy, all limited to the scope of someone suffering from sciatica.
Even if another site has just as much information on their general "Pain Management" site or page, the sciatica page is much more specific and convenient for this potential customer and therefore the latter ends up looking like more expert or specialized.
So who does our sciatica sufferer choose?
The expert, of course.
Specialty pages help brand you as the expert and remove other options from the equation. With the right specialty pages you effectively become the go-to professional for your private practice focus and with this perceived boost in reputation, cost becomes less of a concern for your potential patients. Rather than being just another ho-hum option, you are seen as a unique, better-qualified, and more effective clinician with a head above the crowd.
Optimize Specialty Pages for SEO (Search Engine Optimization)
There are two ways to woo search engine users to your site: paid and unpaid. While paid promotion can form an important part of a good therapy practice strategy, search engine optimization (SEO) is how you give platforms like Google, Bing, and Yahoo the right information so they send people to you for free.
Check out this video explaining more about how this works:
Let's go back to our sciatica example and think about it with two main concepts in mind: SEO, and how to use words to ethically persuade the audience to buy what you're selling.
The power of keywords on specialty pages

If you create wonderful unique content that has readers spending good amounts of time on your site, reading from page to page, the search engines want to find you! But you need to provide the search engines with what they need, or else your site could be lost in a dusty corner of the internet forever.
It's important to include keywords
A keyword, or keyword phrase, is simply a search term or phrase. When your leg pain gets too much to bear and you search for "sciatica treatment," you've just searched with a keyword phrase.
The search engines will choose what results to display based largely on that keyword phrase. By incorporating the keywords people search with on the specialized page, you increase your chance of a boost in rankings.
How does this help conversion?
When people see you are an expert with their specific condition and you include the exact phrase or phrases they're using to search, it's far easier to persuade your potential customers.
While it could do with some improvement, check out this article at Physio Works. See how they've used sciatica treatment, our search keyword phrase, throughout the article? This helps the search engines know this page offers helpful and relevant content, and let's the reader know that Physio Works is an expert in this field.
You can brainstorm the phrases you imagine people will use, or rely on online tools to streamline this process. Google Adwords has a free keyword planner (you'll need to sign up to access it), and at Brighter Vision we use LSI Graph (see below). However, there are many other tools available if you're open to paying. Once you've decided on what important keyword phrases for your practice are, use these regularly and naturally throughout the relevant specialty page.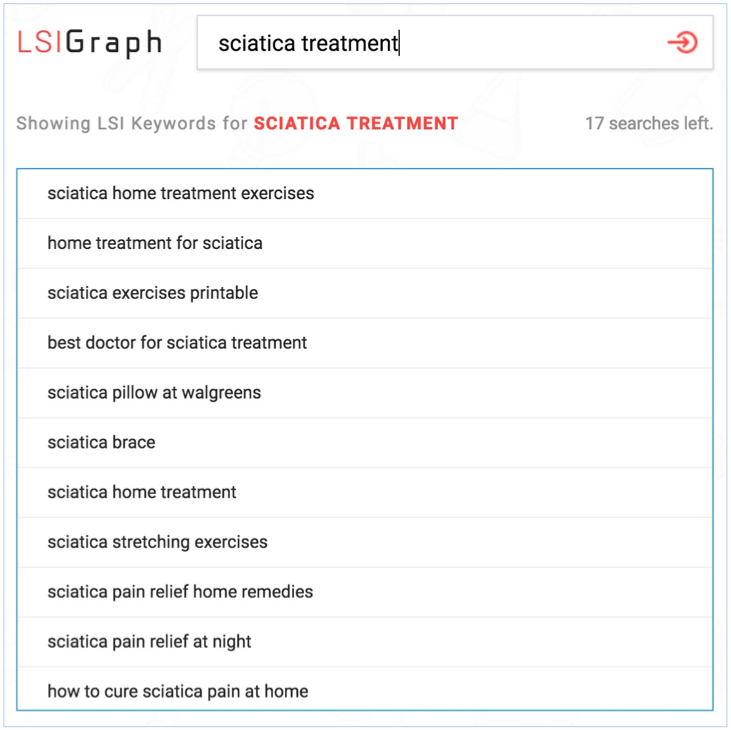 Picture: An LSIGraph.com search for the keyword phrase: sciatica treatment reveals other potentially useful keywords to incorporate in your writing.
How to Identify Potential Therapy Specialty Pages for your website
Before anything, remember that you can add or remove from your website at any point. As a therapist, your career will most likely change course a number of times. You may complete additional training that changes your clinical focus. Life might lead you into caring for a new demographic. All of this may affect your choice of specialty pages, so rest assured that your site will be able to reflect these changes as they happen.
There are two types of therapy specialty pages you need to include; those every site needs (the standard but still tailored pages) and those that are more unique and specific to your practice and expertise.
Standard therapy specialty pages include:
Your bio page: Who you are and why potential clients should trust you.
The "who we are" page: This is like an About Me or bio page for your practice. Instead of going into the individual[s] behind the practice here, talk about your private practice in general and what its goals and/or specializations are.
Services page: Think about how what you offer that can benefit a client. CBT for anxiety? Counseling for alcoholism? Eye Movement Desensitization and Reprocessing (EMDR) for Post Traumatic Stress Disorder? Include a page with a brief summary of all the different kinds of services you provide, and then link the listings to their respective, super specific specialty pages elsewhere on your site.
Frequently Asked Questions (FAQ) page: Many health professionals don't think to include a FAQ page. What a mistake! As the name infers, this page answers those questions you're asked often. An FAQ page can ease your team's workload, offer a seamless experience for current and potential clients, and give you the opportunity to provide important information to the search engines. That's three birds – one stone.
Testimonials page: Social proof is crucial in our digital world and if people can see other people like them getting results, it may be the final piece to the puzzle of convincing your potential clients to reach out for a consultation.
Unique therapy specialty pages
While it's important to have standard specialty pages, they probably don't cover everythin you want your potential clients to now about your practice. The unique therapies or techniques that matter to your practice and your clients, both current and potential, form this part of the specialty pages equation. This is where you can use some creativity, imagine your ideal practice, and apply laser-like targeting to those you seek.
In order to know what kind of unique therapy specialty pages would be the most helpful for your private practice, you'll need to brainstorm the things about you and your practice that make you special compared to some or most other practices.
Ready for an exercise to help?
What kinds of conditions do you help?
What people or groups do you work with?
What type of therapies do you offer?
What areas do you have much experience and expertise in?
Who do you love working with, and why?
To help you generate unique therapy specialty pages, let's take a look at some examples:
Cognitive behavioral therapy for depression – See how Rose Park Psychology has targeted this here.
Anxiety treatment for youth – Do you think you'd feel confident taking your anxious child to see these therapists after reading this page? Anxiety in Teens: When Stress Goes Awry. Newport Academy appears professional, educated, experienced and like the go-to practice based on that therapy specialty page.
Relationship counseling for families – While there are a number of changes we'd make to this page (including a helpful headline), see how this specialty page is focused specifically on helping "couples, families and other relationship groups who are finding relationships problematic". They've also gone one step further and answered related FAQ's right there on the page.
How to Write Better Specialty Pages

We have a few main tips to keep in mind when it comes to polishing up your specialty pages so they really start to convert for your practice.
1) What does a potential client searching the 'net get from reading your specialty page?
Insight? At-home strategies? A path to relief?
People often consume online content without necessarily wanting to visit a therapist. The good news is if your content is great they'll hang around your website and the search engine will see this as a sign of worthiness and may boost your rankings. In a roundabout way, this will help those who do want therapy to find you. Or they could be the golden goose, ready to take action right then and potentially become a client immediately.
Either way, you need to consider what they want and once you know what your potential clients are looking to find, weave what they seek into your message. Giving your website visitors what they want can only help your site.
2) The additional magic of keywords
Keywords can greatly benefit specialty pages — well, every page in fact — so it's very important to include them. Keep a record of the two or three keywords or keyword phrases appropriate for each specialty page and include these as you write.
3) Format your website for success
Have you ever come across a site that was too visually busy? The text was bundled together so much you could barely read it and you could immediately tell it was going to be hard work to even get around the site?
Don't do that to people! You're encouraging them to click away forever, even if the content is great. (Even if you change your site later, the people who were already turned off by your poor website aren't exactly going to come back of their own initiative just to check on you.) With this in mind, there are a few key design tips to keep in mind that will help to ensure your site impresses and converts:
– Incorporate white space
– Include bullet point lists (see what I did there!)
– Write a descriptive headline and make it big
– Use subheads that pop and matter to your ideal clients
– Use stock photos to connect with their emotions
HEADS UP! If you're uncomfortable with website design and would rather let some talented professionals bring your vision to life, get a FREE trial of Brighter Vision, on us.
4) Add a call to action

You are in private practice, and therefore in business, and your specialty pages serve a specific purpose. To convert, educate, and keep clients.
In order to encourage your website visitors to buy in, you must ask the reader to take an action in an obvious area on your site.
Do you want a reader to book a consultation, to join a program, to buy your book…? You must ask them to do it in those very words. Yes, there are more sale-sy words and creative approaches, but the best approach is to keep it simple and just ask for what you want from them. You may be surprised how well people respond to it.
To enhance your conversions, regularly revisit your specialty pages and see how you can improve them with specific "Next Steps" for your potential clients.
5) Write, write, write
No, I don't mean that each specialty page should be the size of a thesaurus. But the more frequently you write, the better you'll become.
Writing Tip 1: Don't try to be overly clever with too much fanciful language. It will usually end up confusing to others and miss the mark.
Writing Tip 2: Include language that your clients use (Hint: refer back to your keywords, to start). This can boost SEO, but more importantly, it will show your website visitors that you understand what they're going through.
---
With your therapy specialty pages completed thoughtfully, the search engines will show you more love, potential clients can find you more easily, and your content will contribute to a thriving practice.
And as usual, please reach out to us if you would like help learning more about how to increase your client base. We look forward to helping you succeed!