NEW! – Show Off Your Services with Google My Business
Imagine that with a single Google or Google Maps search, your potential clients could have your availability, address, contact information, client reviews, office pictures, and common questions and answers – all right in front of them before a second click even happens.
If you aren't taking advantage of Google's free and easy service, Google My Business, to help you control the way information about your business appears to Google searchers, you are losing out. Let alone now that Google has just expanded an update that allows those same searchers to see your services or specialties at a glance whenever they search for you.
Seeing as how valuable Google My Business could be to your private practice, let's not waste time. If you don't have a Google My Business account – don't worry! We'll step you through setting one up. And if you just want to know how the new Services function works, skip ahead to the next section.
Let's go!
Setting up Google My Business
Here's the great news: if you have any ol' Google or Gmail account, you already have access to the Google My Business service. Well, that was easy, wasn't it? (And if you don't have a Google or Gmail account, you can easily grab one for free by clicking here.)
Okay, now that you have access, let's set up a Google My Business account for your private practice or other business.
Step 1 – Head over to google.com/business and login with your Google/Gmail account.
Step 2 – Follow the instructions and fill out all the relevant information about your business on each page before clicking Next.
Step 3 – Pick the easiest option for you to verify your business account.
Done! Now you're ready to use Google My Business to start controlling how Google and Google Maps searchers view your business, Services section and all.
(If you find yourself getting turned around and need a more detailed walkthrough of this process, try this tutorial by Google.)
Adding the new Services function
There are three big things you need to understand about the new Services function for Google My Business: it's current state, what it does, and how to start using it.
What do we mean by "it's current state"? Well, the Services function is so new that some businesses are reporting that they don't yet have access to the feature from their dashboard (the main screen when you log into your Google My Business account). This likely implies that Google is either testing out the function in a slightly limited scope at first, or the feature simply hasn't "kicked in" yet for some accounts and should do so soon.
Like we mentioned before, adding the Services section to your Google My Business information can display your services or specialties to a Google or Google Maps searcher, right from the search results page without before even clicking on your website. Listing out your practice's specialties can help entice a Google searcher by showing them you do have experience in the specific areas of their concern, even if the overall focus of your practice isn't as narrow.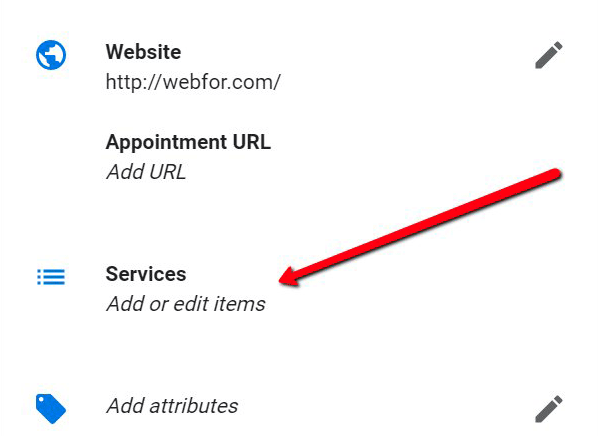 Image credit: Search Engine Roundtable
Which only leaves us with one more question – how do you use this shiny new tool?
Once it becomes available to your business account (if it hasn't already), you can add a new section of Services to your Google My Business information from the main dashboard page of your account, bringing up this fill-in screen: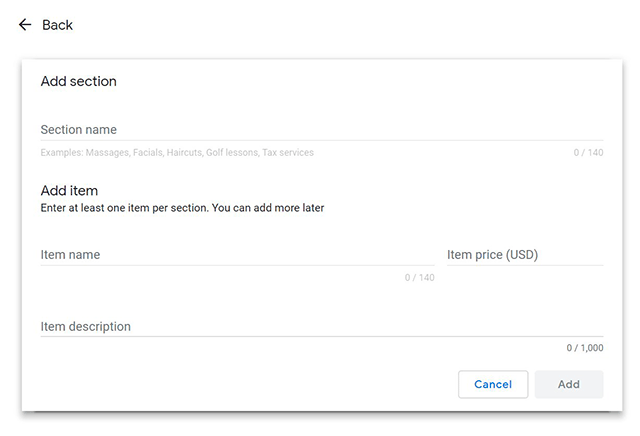 Image credit: Search Engine Roundtable
You'll need to add at least one service per section – "Section name" is the title of that particular list of services (you can add more than one!), so be sure to write a title that works with every service you'll be listing in that section.
What's also important to know about this screen is that both the Price and Item Description fields are optional, allowing you to list services that would be priced or described differently for clients with different needs or insurance.
Add your most popular or most attractive services, but try not to go overboard. Remember that the point of this is to provide your potential client with the ability to see what you can offer them at a quick glance.
---
And that's it!
Now when people search for your business on Google or Google Maps, you can persuade them that you are the right fit for them before they even make a second click.
If you're looking for to further improve the way search engine users see your private practice, good news! We offer FREE Search Engine Optimization (SEO) to every Brighter Vision website. To see what a professional touch could do for you and your practice, reach out to us for a free trial!